Saturday, February 25th, 2017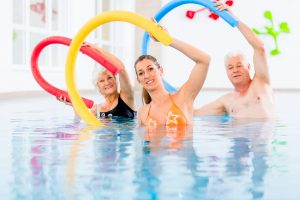 Good news for older adults, part of the prescription for a healthier, better retirement is exercise. Physical activity protects against declining health and adds years to your life.    Blue Cross Blue Shield of North Carolina offers many choices of Medicare Supplement Plans which offers discounts to gyms and don't forget those wellness visits each year.
Did you know that moderate intensity physical activity can help you live longer and reduce health problems? Regular exercise helps control blood pressure, body weight and cholesterol levels, and cuts the risk for hardening of the arteries, heart attack and stroke. It conditions muscles, tendons, ligaments and bones to help fight osteoporosis, keep your body more limber and stabilize your joints, thus lowering the risk of everyday injury. Also, it improves digestion and is good for managing lower back pain, arthritis and diabetes. Regular physical activity helps you maintain your independence. Recently, there has been research that suggests an active lifestyle lowers the risk of some cancers. But perhaps the best reason for incorporating regular exercise into your life is that you will feel better. Exercise helps you sleep better and manage stress better, and gives you more energy to enjoy work and play.
A good exercise program includes cardiovascular exercise, muscular conditioning and flexibility exercises. The best cardiovascular exercises for seniors are non-jarring, such as walking, swimming and cycling. Start with a light regimen and gradually build up to a total of at least 30 minutes of activity on most days of the week. Playing with children, walking the dog, dancing and gardening are other ways to incorporate activity into your daily routine.
Strengthening exercises such as lifting light weights help to maintain your muscle mass and promote bone health. Research suggests that adults older than 50 years who do not perform resistance training lose nearly 1/4 pound of muscle mass per year. Since muscle mass is directly related to how many calories your body burns each day, resistance training is important for weight management. End each workout with stretching exercises to help maintain your mobility and range of motion and decrease your risk for injury.
The best way to keep fit is to choose exercises you like. Some older adults like aqua aerobics, yoga, pilates or just walking the dog. Seniors also enjoy group exercise classes, since they offer an opportunity to socialize and develop friendships.  As always, make sure you consult your doctor before beginning any new exercise program.
For more information on North Carolina insurance coverage, please visit our website at www.nchealthplans.com or call our toll free number 888-765-5400 and speak with one of our experienced and professional agents.