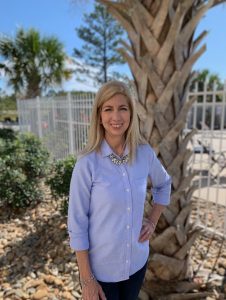 We are excited to announce the newest member of our team at Jerry Ballard and Associates, Emily McLaurin. Emily has just finished her appointment and licensing for her North Carolina Health Insurance License. In the short time she has been with Jerry Ballard & Associates/NC Health Plans Agency, we have gained respect and admiration for her loyalty and desire to help our clients with their customer service needs.
Emily previously worked in the banking industry and graduated from East Carolina University in Greenville, NC with a BS Degree in Clothing and Textiles, with a minor concentration in Business. She resides in beautiful Carteret County, North Carolina with her husband and son and also has two grown daughters and a son-in-law. Emily loves living along the Coast in Eastern North Carolina and spending time with her family.
Emily's exceptionally positive attitude and bright spirit will enhance the experience for all of our Blue Cross Blue Shield of North Carolina clients. She is delighted to help guide our existing and new clients through navigating the health insurance marketplace.  Her wonderful spirit is refreshing to all, but her compassion for the elderly makes it a delight when our seniors call in to go over their Medicare Supplement needs. At Jerry Ballard & Associates, we strive to provide the best customer service for all North Carolinians and Emily is excited to use her customer service background to help meet the needs of all of our clients.
For more information on North Carolina Health Insurance coverage, please visit our website at www.nchealthplans.com or call our toll free number 888-765-5400 or our local number 252-726-5400 and speak with one of our experienced and professional agents.