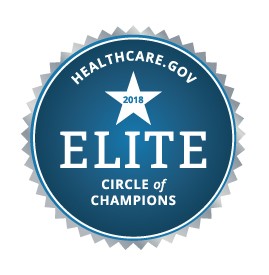 NC Health Plans is proud to announce that we have been included in the Health Insurance Marketplace Elite Circle of Champions. This means that we have been designated the top achievement award for helping North Carolina residents enroll in Marketplace coverage through Healthcare.gov. Now that Health Insurance Open Enrollment Period for 2019 has arrived, we are ready to assist more North Carolinians in applying for affordable Qualified Health Care!
Healthcare.gov, also known as the Health Insurance Marketplace, is the avenue that individuals go through to apply for government subsidies to be applied towards their Health Insurance premiums. Subsidies are designed to lower the cost of health insurance for low and middle income individuals or families. These government applications can often be overwhelming and confusing, and we are happy to help you through this process. Our website provides consolidated Health Insurance applications, and we can help you apply for your subsidy right over the phone. CLICK HERE to generate a quote and discover if you are eligible for a subsidy.
We are proud to be recognized as a top leader and guide in helping individuals apply for affordable Health Insurance through Blue Cross Blue Shield of North Carolina and we look forward to helping North Carolinians in the upcoming 2019 Open Enrollment Period, which starts November 1st and ends December 15, 2018.
For more information on North Carolina Health Insurance coverage, please visit our website at www.nchealthplans.com or call our toll free number 888-765-5400 and speak with one of our experienced and professional agents.