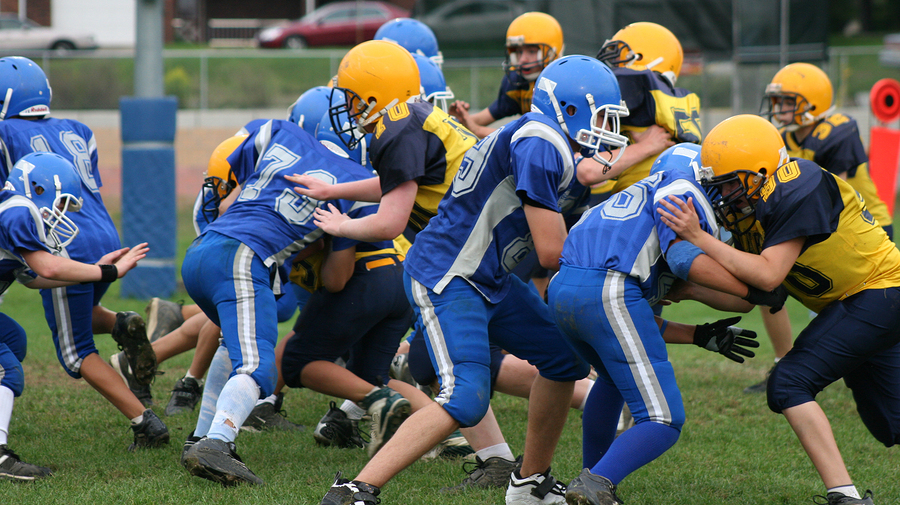 With back to school comes back to youth sports and if your children are participating, it's important to make sure they are covered in case of accident or injury.  The soccer fields, football stadiums, volleyball courts, and swimming pools are full once again with school-aged children gearing up for a full season of team training and competitive sports.  Accidents and injuries are bound to occur and when they do, Blue Cross Blue Shield of North Carolina has you covered!
The facts are somewhat staggering.  A Safe Kids Worldwide survey of emergency room visits showed that more than a million times a year, a young athlete visits a hospital emergency room for a sports-related injury.  Among the top reasons for ER visits were sprains, strains, fractures, concussions, and abrasions.  Because more than 46 million kids participate in some form of youth sports, accidents can happen in almost any arena from cheerleading to baseball and the effects can be devastating.  Research shows that younger athletes take a longer time to heal than older athletes because their bodies are still growing and without the proper treatment, the injury sustained can be serious to life-long health.
Although typically schools require that children receive a sports physical before participating in youth sports, having children properly insured is not a requirement for participation in most cases.  Although children are required to have insurance under federal law, there are still many children participating in youth sports who are not properly covered in case of an unexpected injury or accident.  Whereas most colleges and universities now require a proof of insurance in order to attend classes, younger athletes may remain uncovered.  Not only is a lack of coverage unsafe for the child, it's hard on the wallet.  If your child sustains and injury and has to visit an Emergency Room, the average cost of an ER visit is roughly $1500!  Having the right amount of coverage can save you an enormous amount of money.
In addition, it is important for student athletes to make sure their bodies are rested.  Adding preventive and strengthening exercises as well as following proper techniques will also make a huge difference in helping them to avoid injury.  BCBSNC believes strongly in preventive care as part of every health plan offered, which is why preventive care services are covered at 100%.  In addition, for people under the age of 30 BCBSNC offers Catastrophic plans that are typically more affordable and will provide coverage in case of an emergency.  As a member of Blue Cross Blue Shield of North Carolina, not only will your child get the preventive care he or she needs, your child will also be covered in case of accident or injury.  If your child plays sports, it makes sense to play it safe!
For more information on Blue Cross Blue Shield of North Carolina health insurance coverage, the Marketplace and healthcare gov  to apply for your subsidy, please visit our website at www.nchealthplans.com or call our toll free number 888-765-5400 and speak with one of our experienced and professional agents.  Let us help you navigate through the Health Care Reform changes in accordance with the new regulations of The Affordable Care Act, also known as Obama care.