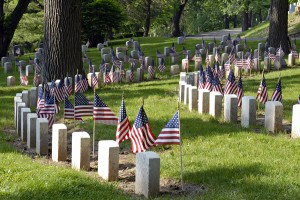 Blue Cross Blue Shield of North Carolina knows a lot about working to give the residents of NC the peace of mind that comes from knowing you and your family are covered for all of your health care needs.  BCBSNC understands the value implicit in being covered when it counts.  As Americans, however, Memorial Day is a sobering reminder that peace of mind and knowing someone has your back in times of trouble doesn't come free.   That is what Memorial Day is all about.  This weekend we celebrate the men and women of the Armed Forces, both past and present, who have paid the ultimate price for our freedom and protection.
Although Memorial Day is typically, and I think appropriately, celebrated by throwing some burgers on the grill in the backyard, the holiday has some important origins.  Formerly known as Decoration Day, Memorial Day is a federal holiday observed every year on the last Monday of May.  The holiday originated after the American Civil War to honor soldiers of both the Union and Confederate armies who had died during the war.  Even today, many people visit cemeteries or war memorials on this day and hundreds of volunteers place a small American flag on each grave in the national cemeteries.  Not to be confused with Veteran's Day, which honors all the men and women of the Armed Forces, Memorial Day is a day specifically intended to celebrate and remember the service members who died while serving.
The traditional observance of Memorial Day is as follows:  The United States flag is raised to the top of the staff and then slowly lowered to the half-staff position, where it remains until noon.  The half-staff position is in memory of the more than one million men and women who have given their lives in service of their country.  At noon, the flag is then raised by the living to full-staff as a symbolic resolution not to let the sacrifice of the dead be in vain, but to stand in their place and continue to fight for liberty.
This Memorial Day, while we are grilling burgers, taking our kids to the beach or taking our boats out to sea with friends, let us a take a moment and be thankful for the freedom we still enjoy.  It may sound pithy, but freedom really isn't free and the fact that we can do the things we love the most is a gift for which many men and women have given their lives.
For more information on acquiring Blue Cross Blue Shield of North Carolina health insurance coverage, please visit our website at www.nchealthplans.com or call our toll free number 888-765-5400 and speak with one of our experienced and professional agents.