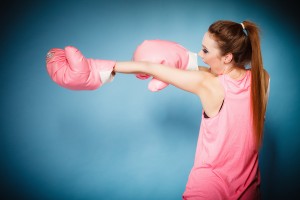 Very likely you've seen the breast cancer awareness slogan that says, "FIGHT LIKE A GIRL!" and Blue Cross Blue Shield of North Carolina wants you to know that when it comes to fighting breast cancer BCBSNC is in your corner, offering preventive care, including mammograms, covered at 100%.  Much like boxing, or any sport for that matter, the key to victory is a successful game plan and according to the National Breast Cancer Foundation, having a preventive plan in place is the key to reducing risk.
A good breast cancer preventive plan includes self breast exams, as well as having clinical exams performed by a health care professional on a regular basis.  For women over 40 and women under 40 with high risk factors, an annual mammogram is also very important.  In addition to these medical preventions, however, there are other daily habits that can help in your fight against breast cancer.
Reducing your Risk Involves the following daily habits:
Maintain a healthy weight
Stay physically active
Eat fruits and vegetables
Do not smoke
Limit alcohol consumption
These daily habits as well as a good medical prevention plan are the key to success in the fight against breast cancer.  Also, as you "fight like a girl," remember that Blue Cross Blue Shield of North Carolina is in your corner.
Before starting any weight loss program, always consult your doctor first and get his/her clearance for physical activity and find out if there are any issues that would affect you participating in a new nutrition and fitness program.
For more information on Blue Cross Blue Shield of North Carolina health insurance coverage in North Carolina, please visit our website at www.nchealthplans.com or call our toll free number 888-765-5400 and speak with one of our experienced and professional agents.  Let us help you navigate through the Health Care Reform changes in accordance with the new regulations of The Affordable Care Act, also known as Obama care.